Express YOurself with A graphic Tee
Great high-end clothing, perfect fit, and super comfortable! I specifically love the workout clothing. The Betty bras are super comfortable and stylish. These made great gifts for friends this year.

Sadie
Sports bras
Open back bra

Judy Bra
leggings
Leopard leggings

Stripe leggings
Joggers
Active Joggers

Jogger Pants
I am in love with this shop. Tina and her staff are so friendly and welcoming! The athletic line is amazing! I am a power lifter and almost exclusively wear roachco leggings now.

Kiana
Tina has picked out the perfect fabric and styles for comfort and durability. The activewear is by far the best you'll put on for any occasion! Go check out her store on the town green

Tammy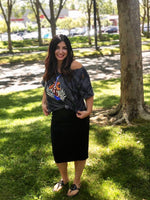 About Roach Co..
My name is Tina Roach. I am a salon owner and like many others, during the COVID19 shutdown I had to put my creative mind to work. After weeks of feeling helpless and not being able to be creative in the salon, I thought "why not get creative with clothing?"
Let's rewind to about 20 years ago- When I was trying to decide which career path to take, I was torn between fashion or cosmetology and as you could tell from my statement above, I chose cosmetology. While I am beyond blessed to be a salon owner, a part of me still wanted to create custom clothing items but never had the time to.
Well... Here I am, 20 years later and proud to say I'm able to make people look amazing with hair AND clothes!